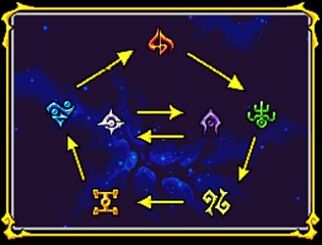 Magic, is throughout the game of Magical Starsign and its universe. Magicians are an integral part of the game and the main character and their party are able to use magic.
Magic is separated into different categories that are called starsigns; Light Magic, Dark Magic, Earth Magic, Fire Magic, Wind Magic, Water Magic and Wood Magic. There are also spells which do not follow any of these categories and are not associated with any element and therefore cannot be powered up by a planet.
All the other spells of the categories listed above are associated with their proper planets; Earth to Erd, Fire to Razen, Wind to Puffoon, Water to Cassia and Wood to Gren. Light and Dark Magic is associated with day and night, Light being stronger by day and weaker by night and vice versa for Dark Magic.
List of Light Magic Attacks
Edit
List of Dark Magic Attacks
Edit
List of Earth Magic Attacks
Edit
List of Fire Magic Attacks
Edit
List of Wind Magic Attacks
Edit
List of Water Magic Attacks
Edit
List of Wood Magic Attacks
Edit