Water Magic is a type of Magic based upon the power of water. It uses water to heal, freeze and electrocute it's opponents. Water magic is influenced by Cassia, the Water Planet. When Cassia is lined up according to it's position, Water characters are powered up.
Field Water Magic is used to summon water up from the ground, flood entire areas and in general, to make a big splash.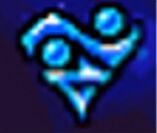 Sorbet is the character in your team who can use Water Magic.
List of Attacks
Edit
List of Water Starsign Creatures
Edit
Ice Chunk
Frozen Coral
Squid Mage
Seapony
Umbrelloon
Permafrost
Curtain Fish
Frigitad
Waniwango
Bloaterfish
Sealing
Wendigo
Horned Maimai
Hangfin
Husked Maimai
Seagulper
King Crab
Sea Cucumber
Sea Crawler
List of Water Starsign Bosses
Edit
Hermit Lab
Mojo
Peacock Fish
Ad blocker interference detected!
Wikia is a free-to-use site that makes money from advertising. We have a modified experience for viewers using ad blockers

Wikia is not accessible if you've made further modifications. Remove the custom ad blocker rule(s) and the page will load as expected.